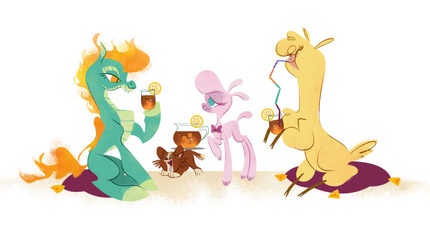 "22 February 2018 marks the date that "Them's Fightin' Herds" releases on Steam and Humble Bundle as an Early Access Game!"
The Early Access build [Version 0.95] will contain the majority of the content that will appear in the full release of the game [Version 1.0]. The only key features missing from this build are Story Mode and Achievements (the latter due to several of the achievements being tied to Story Mode progress).

All six main characters are fully animated, voiced and playable across all the available gameplay modes:
Singleplayer modes:
Arcade Mode
Target Challenges
Combo Trails
Multiplayer modes:
Local Multiplayer
Online Multiplier (both through Quick Match and the Pixel Lobby)
Salt Mines (access via the Pixel Lobby, can also be played alone as a Player vs. Enemy dungeon)

"Feel free to discuss anything about the game here! It could be about the Characters, your thoughts on the Gameplay, Multiplayer, ect."
Reference: Them's Fightin' Herds Forums
Community content is available under
CC-BY-SA
unless otherwise noted.